Sustainability
The Logical Utilities Company go above and beyond the management of energy; we are in business to deliver a competitive advantage to our customers by reducing costs and providing a world class support service in all aspects of utilities management and save our customers millions on energy expenditure and emissions each year.
"As one of the largest buyers of energy in the uk we like to keep appraised of the bigger picture"
The ever-expanding issues surrounding global warming, the government emissions targets and their drive for a net-zero future means our customers are looking to us for more 'green' energy sources and to provide sustainability consultancy, energy reduction strategies and offsetting schemes. We have made a huge impact in changing perceptions and reducing the carbon footprint of our customers by sourcing renewable 'green' only fuel types wherever possible. Our commitment to ensuring we consider the environment stretches beyond the work we do for our customers.

Sustainability Initiative
The Logical Sustainability Initiative was conceived to tackle carbon emissions and work with organizations towards a net-zero future. The initiative combines strategies to tackle sustainability and reduce emissions within the workplace. These actions include on-site staff behavioural training teaching staff from boardroom to shop floor to work sustainably, procuring green energy contracts, project management and installation of renewable energy generators, carbon offsetting schemes and the use of our technology, Eos®, to track energy consumption at site level to manage and reduce usage across our customers portfolio's.
"The Logical Sustainability Initiative moulds our customers environmental strategies and leads the way in our collective endeavour for a decarbonised planet."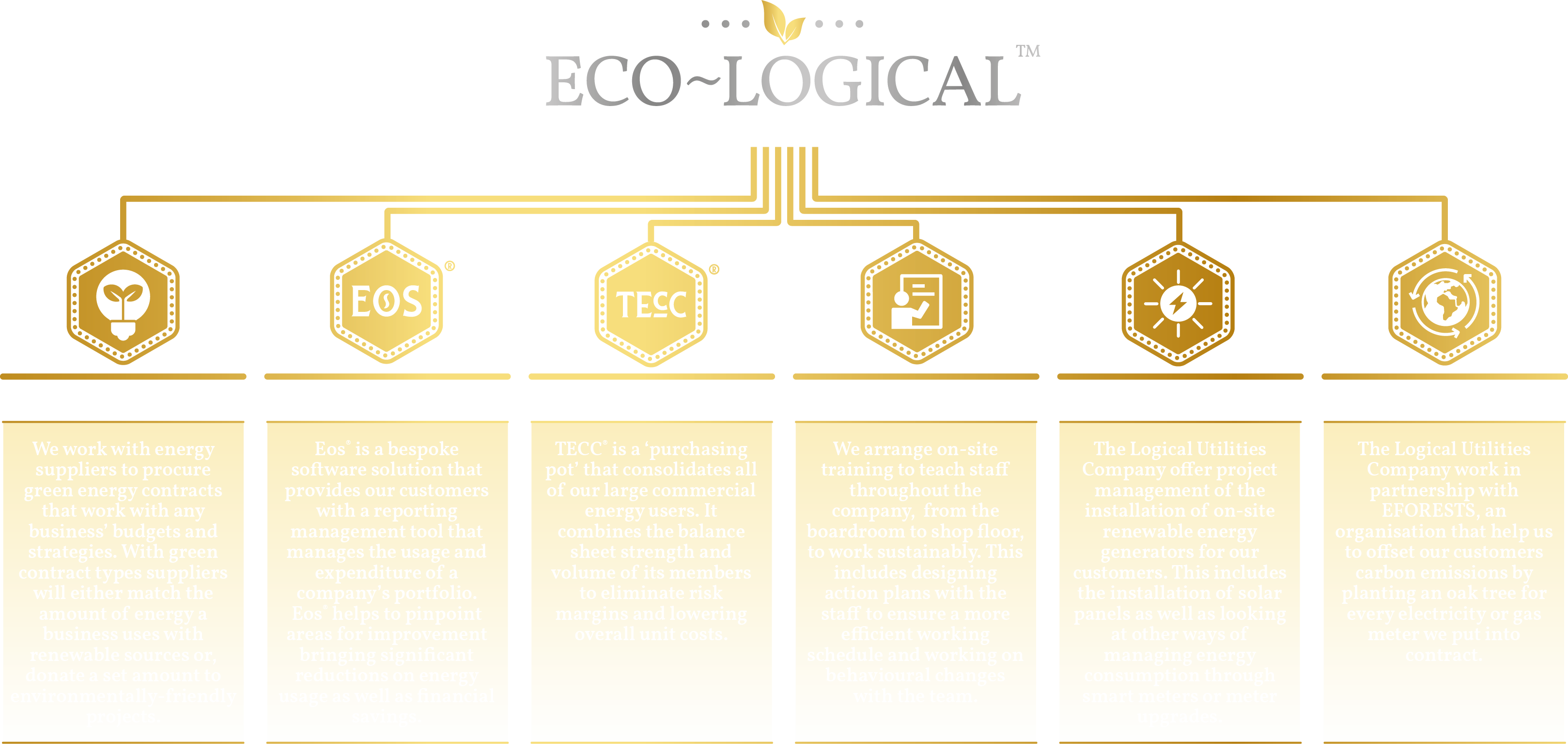 Carbon offsetting
For our own part, we make a net positive environmental contribution by planting oak trees to offset our own emissions. This initiative has resulted in over 5,000 tonnes of carbon being offset to date, meaning that we've offset more emissions than our total employees will have generated in their entire lifetime.
Logical Utilities work in partnership with EFORESTS, an organisation that help us to offset our carbon emissions, by planting an Oak tree for every electricity or gas meter we put into contract. Visit eforests.co.uk for more information.
100% Green contracts
The Logical Utilities Company aim to tackle the rise in global warming head-on and give our customers a head start in the race for a net zero UK by 2050. Through our sustainability initiative, 76% of our customers are already on green contracts and where possible, our objective is to have our entire portfolio on 100% green contracts. Where green contracts are not feasible, we aim to offset all brown energy through our carbon offsetting initiative where we help businesses offset carbon emissions through planting oak trees.
There are typically two types of green energy contracts that we look to procure with our supply chain:
100% Green Energy tariffs
We source energy from suppliers that procure 100% renewable electricity that will be accompanied with certificates directly from UK renewable generators so your business can be sure where your commercial energy is coming from.
Green offsetting energy tariffs
This option requires suppliers to offset 100% renewable electricity by investing in offsetting schemes or renewable generation projects.
Sustainability through technology
Improving operational efficiency and keeping track of your business' energy consumption is tough without having access to real-time consumption. The Logical Utilities Company have invested in technology that can work with your business by monitoring your consumption and providing you with live usage data. Our technology, transmits real-time data from your individual sites to our software platforms where it is collected and organised into analytical statistics to help you optimise your energy consumption and performance whatever industry you are operating in.
Find out more about how our technology can help your business reduce it financial costs and carbon footprint.
Compliance
Our dedicated compliance team understand the intricate requirements needed for commercial energy environmental schemes and government compliance commitments to provide tailored consultation for businesses across the UK.
In addition to working with your business on environmental and compliance commitments, the Logical Utilities Company work with you to interrogate your business' energy consumption data to identify cost and environmental saving contingencies, so that we ensure to maximise opportunities for cost and carbon reductions.
"Our team help you to maximise savings across your portfolio by analysing your data and pinpointing areas where you could reduce costs, decrease carbon output and improve efficiencies throughout the workplace."
Our team will work with your business on a whole range of reporting obligations, from Streamlined Energy & Carbon Reporting (SECR) to Energy Savings Opportunity Scheme (ESOS) compliances. By utilising our technology and staff expertise within this sector, we make sure that accurate data is extracted specific to each scheme, so your business has peace-of-mind that compliance commitments and particular business KPI's are exceeded.

We are Agents of Change
Founded in 2009 we have become the UK market leaders in energy consulting and support services specialising in multi-site and large commercial business sectors. We operate in a highly fragmented market where most providers concentrate on what they do and how they do it. Our success is attributed to our focus on "why" we do what we do; we challenge the status quo in the energy market. We believe we can improve a clients' bottom line whilst removing highly complex tasks associated with energy from within their facilities and finance departments, and we are driven by sharing in this success.
"We consider the structure of the energy market to be illogical"
We have become standard bearers for a more logical and transparent approach. Logic is applied in everything we do and remains the backbone of our success. We have attracted and grown a specialist team of ethic­al, and talented industry professionals motivated by achieving fantastic results for some amazing customers and pushing the boundaries of what is perceived possible. ​
We are Pioneers in Utilities Bureau Support Services. Make your next choice Logical.